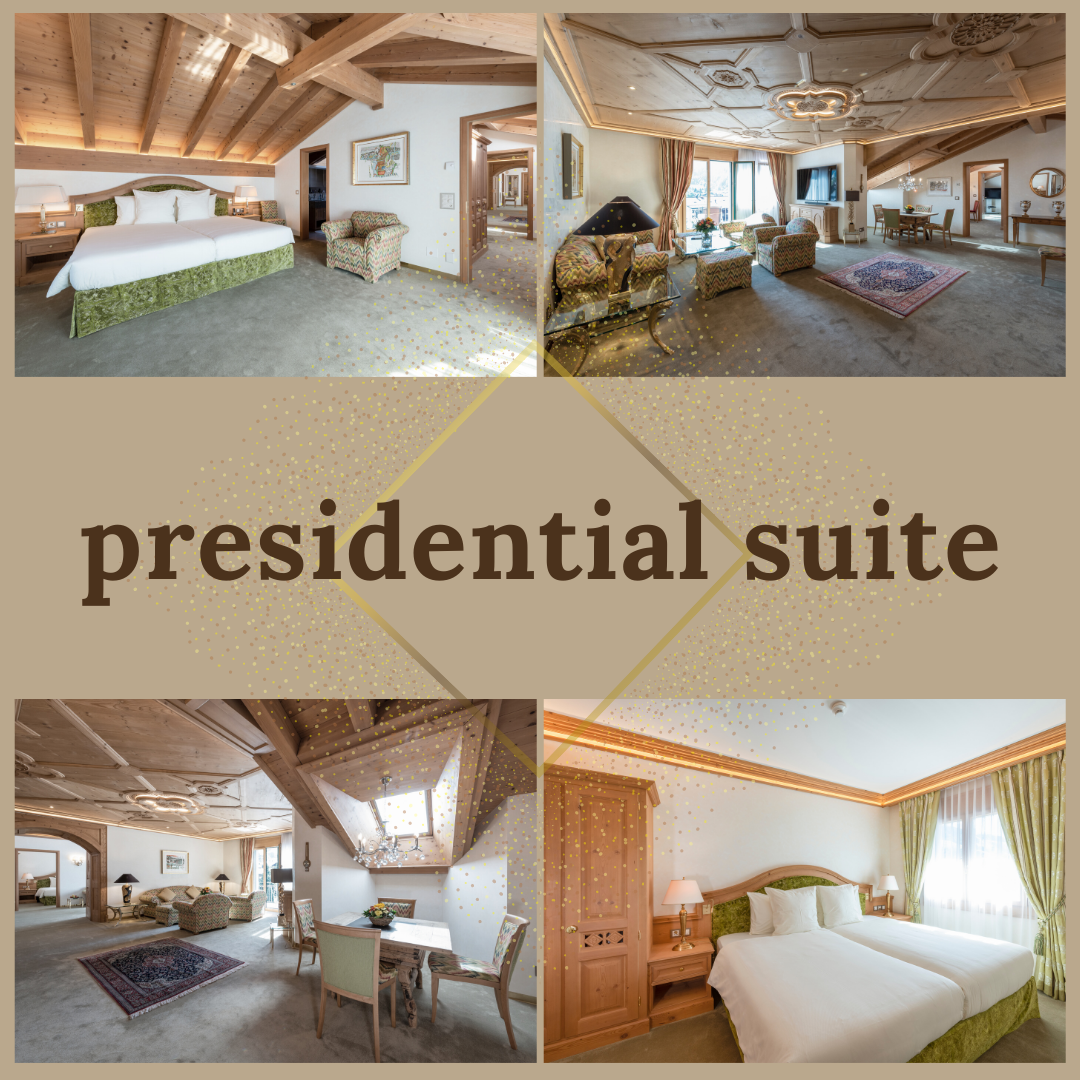 We are proud to offer you our newest and largest suite in the Hotel Vereina – the presidential suite
After extensive renovation, the first guests will be able to stay in this beautiful suite in winter 2021. A large suite has been created out of the original two suites with lockable wooden partition wall. The suite has 2 separate entrances with their own cloakroom and has a total size of unbelievable 170 square meters. The beds with a size of …. inside the two bedrooms will seduce you into sweet dreams. From the bedroom you go into your en suite marble bathroom with double washbasin, shower, bathtub & Closomat. The romantic roof structure and a wood-decorated ceiling decorate the living and sleeping areas, ensure relaxation and a pleasant acoustic and room climate. The spacious dressing hall with work area provides enough space for all your belongings. If you would like to create your own culinary delicacies, you may choose between an open kitchen and another lockable kitchen. Another reason why this suite is perfect for a vacation with your large family. Enjoy the unique sunrises and sunsets in the fantastic mountain scenery on one of your 4 balconies.
We would ove to offer you a "test-usquotation" and turn your vacation into a luxury experience!
All facts at a glance of the presidential suite 303/304:
303:
Bedroom with bed size 2x 120 x 210 cm
En suite marble bathroom with double washbasin, shower, bathtub & Closomat
Own entrance area
Living area in combination with work area
Wooden partition to area 304
Open kitchen with Nespresso machine
Balcony
Carpeting
60 sqm
304:
Bedroom with bed size 2x 120 x 210 cm
En suite marble bathroom with double washbasin, shower, bathtub & Closomat
Large living and dining area
Kitchen with Nespresso machine
Carpeting
Wood-decorated ceiling and roof truss
Spacious dressing hall with work area
2 balconies 1 loggia
Magnificent view of the mountains and the hotel garden
110 sqm
Total size of the presidential suite 170 sqm